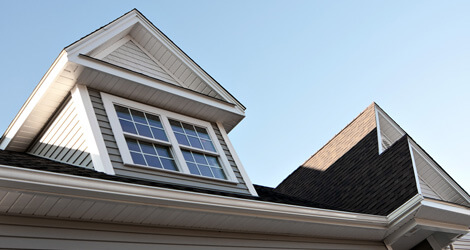 Canada Standard Roofing offers a wide range of soffit and fascia installation, repairs and replacement in Toronto and surrounding areas. Soffit and fascia play a vital role in enhancing the look and safety of your home. That's why, we believe that the process should be done properly. Often overlooked, proper soffit and fascia installation is an important element of every home that can can make or break your eavestrough system's appearance. It is advisable to call our professionals to take care of your home's soffit and fascia.
Fascia Installation & Repair
Fascia makes your eavestrough attractive and durable. It also prevents water from rotting the wooden fascia boards, ensuring that your eavestrough is at its right slop and performing accurately. Proper fascia installation is the first step in ensuring the longevity of any eavestrough install. Fascia acts as a protective shield and enhances the overall appearance.
Soffit Installation & Repair
At Canada Standard Roofing, we always utilize high-quality soffit that is attractive and durable. Soffit will not only increase the aesthetics of your home but also keep water away from your home. We offer a wide range of soffit options and colors to make sure it perfectly blends with your exterior. To ensure flexibility during the installation process, we offer both vented and non-vented soffit.
Soffits and Fascias need expert installation
A well designed and installed soffit and fascia will provide your home with effective and comprehensive weather protection for years to come. Our soffits and fascias are available in a wide variety of styles, designs and colors and are manufactured to protect your home from rain, moisture or any other weather conditions.
Our qualified soffit and fascia contractor will visit you to walk you through the entire process. We help you select the best style and color soffit and fascia to maximize your eavestrough system's appearance.
Contact us today to learn more about our soffit and fascia repair & replacement services