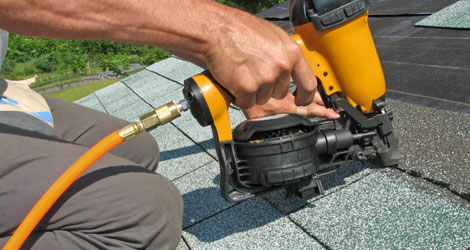 At Canada Standard Roofing, we understand how important it is to find a reliable and experienced shingle contractor when you are in need of repairs. Our shingle roofing company in the GTA pride itself on providing the highest quality of shingle repair and installation services throughout the Greater Toronto Area. Customer satisfaction is our top-most priority and we can go the extra mile to achieve .
Our certified roof installers are fully licensed, bonded and insured. We have many years of experience in full roof replacement, roof repairs, roof installation and inspections. Whether you need a new shingle roof installed or simple repair, we are here to resolve all the problems in a timely and professional manner. We know how to complete the project right the first time and within your budget.
A Versatile Roofing Solution
Roof shingles act like a roof covering that consists of various overlapping elements. Shingle roofs are among the most popular type of roofing used in Canada. If left unaddressed, they might deteriorate, so it is important to take good care of them. When you count on us for your roof repair or roof replacement needs, you can rest assured that your property is in safe and professional hands. We use the highest quality products that are backed by the best warranties.
Shingle Benefits:
Asphalt shingles tiles – It is the cheapest roofing material, but they are highly resilient. Asphalt shingles can last up to 30 years when installed accurately. They are energy efficient and reliable and one of the most popular products.
Wood shingles tiles– Wood shingles can outperform any other kind of shingles. They can last for decades to come. They add elegance and curb appeal to your home.
Slate roofing tiles– It offers a superior water / freezing resistance than other roofing materials.
Please call our shingle roofing company at 647-572-4212 for any questions or ask for a free quote.