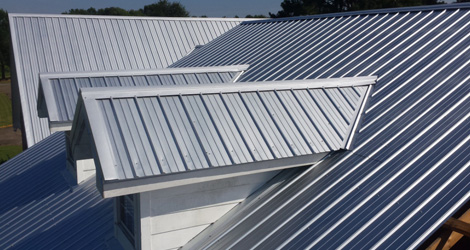 Metal roofs are becoming an increasingly popular choice. And why not? They are robust, attractive, affordable and most of all, easy to maintain. If you are planning to replace your shingles with metal, or simply want to spruce up the looks of your pre-existing metal roof, contact our roofing company – Canada Standard Roofing. As a roofing company serving the entire Toronto and the GTA, metal roof installation and repair is one of our specialties.
Why Install Metal Roofing?
Metal roofs are safer for your home because the roofing is fire resistant.
They're more durable than other roofing materials and can last up to 60 years.
Metal roofing requires less maintenance than any other kind of roofing material.
Metal roofing is extremely energy efficient.
Our Metal Roofing Services in Toronto & The GTA
Metal Roof Installation – We install metal roofing panels professionally and efficiently. Our professionals help you select the best metal roofs to provide maximum efficiency, and protection from leaks and runoff. Our roofers are all licensed, trained, and experienced professionals, so we can always guarantee your complete satisfaction with our work.
Metal Roofing Repair– Our professionals are also competent to repair metal roofs. Our each roof repair contractor has the expertise and skillset to make roof repairs on your home or place of business efficiently and effectively. We provide quality finishes that can last for many years.
Metal Roof Inspection– We also offer roof inspection services. We can inspect and consult on metal roofing for insurance and repair purposes. Our professional metal roofers in Toronto and the GTA diagnose and fix the issue quickly to prevent further damage.
Contact Us Today
If you are interested in learning more about how metal roofing can help optimize your home temperature, increase the value of your property, and make your neighborhood an overall nicer place to live, contact our expert metal roofing contractors in the GTA. We are committed to improving the homes, lives, and communities of our neighbors by providing exceptional services to our clients.
To receive a FREE roofing estimate, give Canada Standard Roofing a call at 647-572-4212