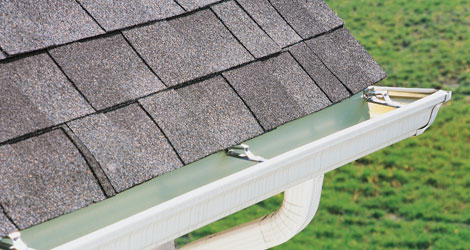 Clogged, damaged or leaky eavestrough and gutters can be a real nightmare. It can severely damage the roof, siding, interior and basement of your home. Save yourself the risk and aggravation by calling our contractors at Canada Standard Roofing. We have many years of experience in eavestrough and gutter installation and repair services in the GTA. Our experts help you save thousands of dollars on home repairs. We always use top-quality products and for your peace of mind, all our work is done by trained, experienced gutter professionals.
If you are looking for a new gutter or eavestrough, come to us. We will provide you with a high quality gutter along with protection shield to eliminate the need to clean them. It will safeguard your interior, exterior, basement and foundation from water damages and guarantee consistent water flow.
Eavestrough and Gutter Services
Whether your eavestrough or gutter has been damaged by natural elements or you want a new gutter that can keep your home safe from water, we can help. We'll work to get your gutters up and running quickly and efficiently.
Eavestrough and Gutter Repair & Installation
We have a team of highly skilled and licensed contractors to take care of your gutter needs. If you have noticed that your gutters don't drain like they should, give our experts a call.
Gutter and Eavestrough Cleaning & Maintenance
Gutters and eavestroughs often get clogged with leaves, ice or debris, it could lead to water backup and cause severe damage to your home. Let our professionals come to clean the gutters and get them back in order.
Why Choose Us?
We always utilize only high quality materials and products.
We install eavestrough/gutter protection system to make sure it works reliably for years to come.
We determine your issue and customize our solutions to meet your unique needs.
Our service is prompt, professional and reasonable.
Get your Eavestrough/Gutter problem fixed today!