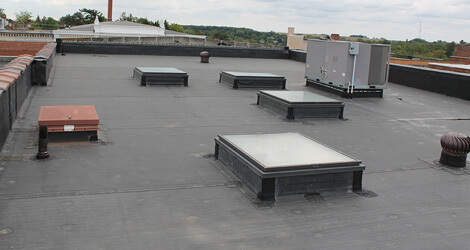 At Canada Standard Roofing, we are equipped to handle every type of commercial and industrial roofing needs in the GTA. Whether you need a robust commercial roof or your existing roof has been damaged due to storm, we are here to help. Our professionals allow you to focus on your business and not your roof. Additionally, we provide a variety of commercial roof maintenance programs. Most commercial roof problems are due to lack of maintenance. It is advisable to call our professionals for roof maintenance service at least twice a year. Our service will ensure your commercial roof's longevity and prevent small problems from becoming costly ones.
Our factory-trained professionals are competent to properly install the best roofing solutions and provide skilled commercial roof repair services in Toronto & the GTA. We work diligently to save you money and time. Our customer service and workmanship is second to none. Our roofing experts provide a full spectrum of services – from roof maintenance and leak detection repair to complete roof restoration and total replacement. We understand that every roof is unique. That's why, we customize our solutions to meet the unique needs of our clients.
Service You Can Count On

The experts at Canada Standard Roofing know that a commercial building and the contents inside rely on a robust, leakproof roof. Even a small roofing problem can turn to a costly issue if not addressed on time. It's best to contact an experienced pro to identify and resolve the problem efficiently. Allow us to solve your flat roof problems with a detailed design plan. We make sure that your roof not only looks great but is also energy and cost efficient. Let our professionals take care of all your commercial roofing services in Toronto and its surrounding areas.
Call Canada Standard Roofing for commercial roof installation, repair and replacement service.