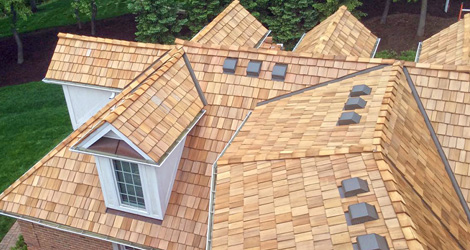 Are you in need of cedar shingle repair now? Canada Standard Roofing will gladly come to your residence or business and provide you with cedar shingle repair and replacement services that will restore your cedar roof to your satisfaction.
For the past many years, Canada Standard Roofing has been providing its clients with beautiful and reliable cedar roofs. Whether you want us to install a new roof or looking for roof replacements, we take extreme pride in our abilities to deliver quality cedar roofing services in the GTA that stand the time test and withstand exterior elements. Rain, snow, heat, or wind – our cedar roofs maintain their beauty through all Canadian seasons.
What is cedar roofing?

As the name suggests, cedar roof is made of wood. Cedar is one of the most durable materials when it comes to crafting shingles and shakes. They are efficient to offer robust protection against the elements. At Canada Standard Roofing, our professionals have hands-on experience to install your cedar roof efficiently and effectively. We make sure that each piece of wood rests in place properly without fail.
With us, you will be getting reliable service in a timely manner. While performing our jobs, we make sure there is minimal disturbance caused to you and your neighbors. Even though each piece of wood is hand-nailed, we work effectively and efficiently to get the job done swiftly.
Why Choose Us For Cedar Roof Services in Toronto & the GTA?
It is our priority to satisfy our customers 100%. You can count on us to work closely with you right from the beginning of project till the end. Our professionals make sure that you are receiving the best cedar shingle roofing services at highly competitive prices. We know how important your cedar shingle roof is and you can have peace of mind knowing that your roof is in the best hands with our cedar roof repair and installation services.
Contact Canada Standard Roofing today and find out what we can do for you!